Bricklayers and Mesothelioma - Our Asbestos Attorneys Will Help You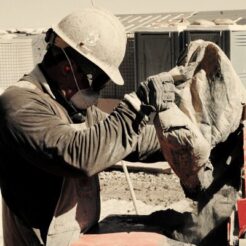 Bricklayers are among the skilled craftsmen at risk of developing mesothelioma from exposure to asbestos on the job. Mesothelioma is an incurable cancer of the lining of the lungs caused by inhaling asbestos dust.
Before the 1980s, asbestos was often added during the manufacture of bricks and mortar because of its fire resistant properties. Bricklayers and brick masons may have inhaled asbestos dust when they sawed, trimmed or cut bricks or worked on sites containing asbestos.
Risk of Mesothelioma Among Bricklayers and Trowel Craftsworkers
Bricklayers, brick masons and masonry workers who were exposed to asbestos in the 1980s, 1970s, or even the1960s, may only recently have been diagnosed with mesothelioma, an aggressive cancer of the lining of the lungs.
Asbestos exposure is an occupational hazard for bricklayers, masons and other skilled workers such as electricians, mechanics, construction workers, boilermakers, carpenters, sheet metal fabricators, welders, and many others.
Bricklayers may be exposed to asbestos at construction sites, brick kilns, furnaces, power plants and steel mills directly by working with asbestos-containing materials or indirectly by working at construction sites where asbestos materials were present. Bricklayers who built fireplaces or remodeled fireplaces may have been exposed to asbestos that was commonly added to fire brick because of the fire-retardant qualities.
Before the 1980s, asbestos also was often applied as spray-on insulation at construction sites, creating a risk for bricklayers and brick masons to inhale carcinogenic asbestos dust.
Bricklayers may be involved in remodeling older buildings. Asbestos was widely used in construction in the U.S. until the late 1970s, and many older buildings still contain asbestos materials. The use of power saws to cut bricks and stone may generate enormous amounts of harmful dust. For many years, bricklayers were not instructed to wear respirators or use wet saws to reduce dust.
If you have been suffering from asbestos-related diseases, our experienced asbestos attorneys at Belluck & Fox, LLP can certainly help. We have locations at Albany, Rochester, New York City and Woodstock.