Clinton Hill Personal Injury Attorney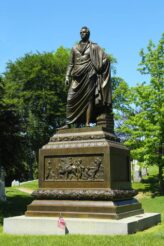 The Clinton Hill neighborhood is celebrated for its diversity of people and activities, catering to ambitious professionals, young families, and students from Pratt Institute and St. Joseph's College. It has a laid-back but creative ambience and a charming mix of picturesque brownstones, brick rowhouses, historic mansions, carriage houses and new luxury condo buildings.
Key Features of the Area
Clinton Hill is a historic Brooklyn neighborhood that takes its name from Clinton Avenue, named in honor of DeWitt Clinton, who was New York's governor from 1769 to 1828.
Its many artists and architects give the area a cool vibe. The Pratt Institute, which has high-ranking programs in graphic design, interior design, industrial design and architecture, is based here, as is the Brooklyn campus of St. Joseph's College. Although known for its wealth in the late 1800s, the area became more middle class in the 1920s and has grown considerably in the 21st century with more upper-middle-class residents.
Petroleum pioneer and philanthropist Charles Pratt, who founded Pratt Institute initially as an engineering school, built four of the mansions here: one for himself and one each as wedding presents for three of his four sons. His former home at 232 Clinton Avenue is now Founders Hall of St. Joseph's College. Other notable homes include the Joseph Steele House, a Greek revival mansion, and a pair of mansions built in the 200 block of Washington Avenue. One of them served in the 1920s as temporary offices for the Brooklyn Public Library, then a residence for a Roman Catholic bishop, a Catholic girls' school and home for rock musician Legion Davies.
Clinton Hill has a mix of consignment, vintage and designer shops, as well as a vibrant culinary scene. Mekelburg's is a local favorite (part bar, part restaurant and part specialty grocer), as is Sisters (a cavernous restaurant, cocktail bar and event space).
Visitors and residents also can enjoy Underwood Park, site of the mansion of typewriter inventor and entrepreneur John Thomas Underwood. It boasts two playground areas, a sprinkler system and fountain, chess and checkers tables, benches, and decorative elements.
Brief History of Clinton Hill
1640 to 1670: Dutch colonists lay tobacco plantations and purchase surrounding land from the Lenape Native Americans.
1832: Clinton Avenue is laid out as a boulevard along the crest of the hill.
1840s to 1860s: Clinton Hill and Fort Green become fashionable neighborhoods for Brooklyn's wealthy.
1870s: Charles Pratt builds his mansion at 232 Clinton Ave. and founds the Pratt Institute.
1900s: Apartment buildings replace some of the area's mansions, while others are converted into rooming houses.
1970s: The remaining brownstones are restored.
1985: The Clinton Hill Historic District is listed on the National Register of Historic Places.
1986: The Clinton Hill South Historic District is listed on the National Register of Historic Places.
Location & Tourism
Clinton Hill is located south of the Brooklyn Navy Yard, west of Bedford-Stuyvesant, east of Fort Greene and north of Prospect Heights. Locations of some of its top landmarks include:
The mansions of Clinton Hill can be seen along Clinton Avenue between the Brooklyn Queens Expressway until Atlantic Avenue.
Joseph's College's main building is in one of the mansions at 245 Clinton Ave.
The Pratt Institute is based at 200 Willoughby Ave.
Underwood Park is at Lafayette Avenue and Washington Avenue.
Mekelburg's is located at 293 Grand Ave.
Sisters is at 900 Fulton St.
Interesting Facts About Clinton Hill
Clinton Hill has the highest elevation in the area at 95 feet.
Clinton Hill's famous residents include poet Walt Whitman, rappers Biggie Smalls and Mos Def, rocker Patti Smith, and actors Jeffrey Wright and Rosie Perez.
The apartment building at 275 Park Ave. was originally built in the 1890s as a chocolate factory that produced and distributed Tootsie Rolls throughout the United States.
The brick building of luxury condos at Downing and Quincy streets once had a different design and name: Broken Angel. Owned at the time by Arthur Wood, a self-taught architect and painter, it grew to 108 crooked feet with arches, windows, sloping rooftops, and stained glass windows made from found objects. The 2005 concert documentary Dave Chappelle's Block Party uses Broken Angel as its backdrop.
Directions to Belluck & Fox from Clinton Hill
Belluck & Fox's NYC office is located in Midtown at 546 Fifth Ave., 5th Floor, New York NY 10036. From Clinton Hill, take Dekalb Avenue west to Flatbush Avenue and turn right. Use the two left lanes to turn left onto Tillary Street, then use the two right lanes to turn onto the Brooklyn Bridge into Manhattan.
Merge onto the FDR Drive headed north. Take exit 9 for East 42nd Street. Use the right two lanes to turn right onto First Avenue/United Nations Plaza. Go through the First Avenue Tunnel and turn left onto East 47th Street. Then turn left onto Fifth Avenue.
Our law office also is accessible via the city subway. Take the G train from Classon Avenue to Court Square, then the 7 train to Fifth Avenue/Bryant Park.
CONTACT OUR NEW YORK INJURY LAW FIRM TODAY
If you or someone you love has been diagnosed with mesothelioma in New York City and surrounding areas, put the personal injury attorneys at Belluck & Fox, LLP to work for you and your family. Call us today!