Upper East Side Personal Injury Attorney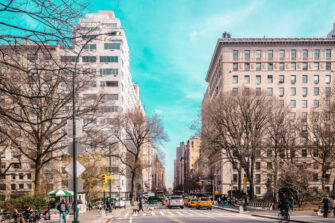 As one of New York City's most affluent areas, the Upper East Side in Manhattan is best known for upscale real estate, popular prep schools and designer boutiques. The neighborhood is bound by Central Park/Fifth Avenue, 96th Street, the East River and 59th Street. The Upper East Side also contains popular neighborhoods such as Carnegie Hill, Lenox Hill and Yorkville.
Need a Personal Injury Lawyer on the Upper East Side?
At Belluck & Fox, our nationally recognized personal injury lawyers have been successfully representing residents of the Upper East Side for more than 20 years. Our respected New York law firm has the experience, manpower and resources needed to go up against large companies and insurance giants. We do not back down from a fight for what's right, and our goal is always to obtain maximum compensation for our deserving clients.
Our Mesothelioma Trial Attorneys Are Focused on Helping Asbestos Victims
Our law firm's top personal injury practice area is asbestos litigation. Asbestos was used in building materials, industrial processes, construction materials and commercial products for many years, despite its recognized health dangers. Now, decades later, those who were exposed to asbestos on the job, in the service or at home are being diagnosed with mesothelioma, lung cancer, asbestosis and other life-threatening diseases.
If you or a loved one has been diagnosed with an asbestos disease, our top-ranked New York City mesothelioma law firm should be your first choice for superior legal representation. Call or contact us online today to schedule a free consultation.
Top-Rated, Award-Winning Lawyers Serving the Upper East Side
When you need a personal injury lawyer, you want a firm that has the resources and experience to successfully handle your case, no matter how complex. Our attorneys are nationally recognized for securing maximum compensation on behalf of our clients. We have been recognized by:
The National Law Journal
Best Lawyers
Super Lawyers
Avvo
Martindale-Hubbell
Our Law Firm Is Nationally Known for Getting Results

Our New York law firm has earned a reputation across the United States for taking on deep-pocketed corporate giants and insurance companies that try to get out of paying just compensation to injured individuals and families. We have secured more than $1 billion in verdicts and settlements for our deserving clients. Learn more about our case results.
Professional Legal Services for Residents on the Upper East Side
Our knowledgeable personal injury attorneys have extensive experience in fighting for innocent people who have been hurt due to negligence, including cases involving:
Asbestos claims
Slip and fall accidents
Dog bites
Wrongful death
A severe injury can impact your life in countless ways. When the unthinkable happens, and you are hurt, our team is here to help you pick up the pieces and move forward.
Key Features of the Area
The Upper East Side has a more relaxed pace than many other neighborhoods in New York City. The neighborhood is filled with parks, schools and other public spaces that make the area an escape from the hustle and bustle of the city.
The neighborhood also hosts some of the world's most famous museums. Running along Fifth Avenue from 82nd Street to 105th Street is Museum Mile, a strip filled with nine museums and multiple cultural landmarks. Two of the most famous museums in the museum mile are the Metropolitan Museum of Art and the Solomon R. Guggenheim Museum.
Several famous television shows and movies were set in this upscale neighborhood. Walking around the area, you'll spot locations from The Devil Wears Prada, Sex and the City, Breakfast at Tiffany's and Gossip Girl.
Designer shopping boutiques are also a characterizing feature of the area. If you've got some money to spend, international fashion moguls like Gucci and Cartier have stores in the area.
Brief History of the Upper East Side
The Upper East Side remained largely undeveloped until 1870, when James Lenox inherited a large portion of the land and divided it into house lots. Lenox went on to construct a library and donate a block in order for a hospital to be built. This created the foundation for the upscale residential area that we know today.
Throughout the early 1900s, many wealthy families built luxury townhomes in the neighborhood. Some of the country's most notable businessmen built homes in the area, including Andrew Carnegie and the Rockefellers.
Unlike most of the neighborhoods in New York City, the Upper East Side remained largely unaffected by socioeconomic trends within the city. Many families that live in the neighborhood have roots that go back three or four generations.
Interesting Facts About the Upper East Side
With 118,184 residents per square mile, New York's Upper East Side has the highest population density in the city.
Political activism runs rampant in the neighborhood. During the 2004 presidential election, the Upper East Side's zip code generated the most money for George Bush and John Kerry's campaigns simultaneously.
Several of the area's former mansions now host diplomatic missions to the United Nations. France, Italy, Pakistan and 18 other countries have their consulates here.
Directions to Belluck and Fox from the Upper East Side
Belluck & Fox's Manhattan law office is located in Midtown at 546 Fifth Ave., 4th Floor, New York NY 10036. From the Upper East Side, travel east on East 79th Street, then take a left onto Fifth Avenue. Travel south on Fifth Avenue for two miles until arriving at the intersection of Fifth Avenue and West 45th Street. Our building is located on your right-hand side.
Our law office also is accessible by taking the 4 subway train from Borough Hall to Grand Central/42nd Street.